If you are interested in SEO you may have heard about IndexNow, but do you know what it really is? Which search engines can you use IndexNow with? Do you know how to implement IndexNow in WordPress? Let's solve these questions and others quickly…
What is IndexNow?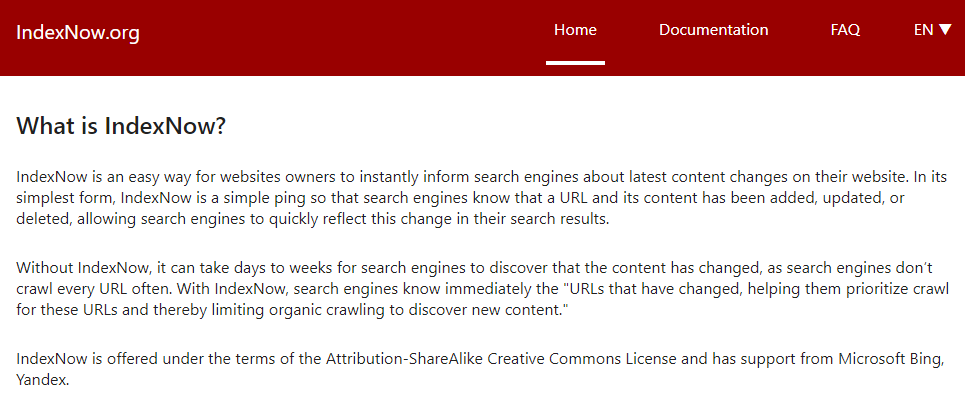 IndexNow is a technology developed by the Webmaster development team at Bing, Microsoft's search engine SEO tool, and allows automatic or manual submission of URLs to support search engines for immediate indexing.
With IndexNow, you can quickly inform search engines that support this protocol of any updates, modifications or URL creations on your site.
IndexNow is an open protocol, under the Creative Commons ShareAlike license, that can be adopted by any search engine and CMS.
Do I need IndexNow to index in search engines that support it?
No, you do not need IndexNow to index your URLs in Bing, Yandex or any other search engine. The standard tools for indexing your content is still the same as always, supported by all search engines:
Robots.txt file – With the basic crawling instructions (allow and disallow) on the site.
XML sitemap – With the complete list of the URLs you want to index.
SEO meta tags – With which you define whether you want to index or not (index or noindex), to follow or not (follow or nofollow) or to archive or not (archive or noarchive) your URLs in the search engine indexes.
Webmaster Tools – In addition, each search engine has its own webmaster tools, such as Google's Search Console or Bing's Webmaster Tools, where you can optimize the indexing of your URLs, troubleshoot crawling issues and more.
What IndexNow changes is a sort of throwback to the past, to the world of PING, so that instead of giving the search engines tools (the ones above) from which they can get your URLs, you are the one who decides to submit your URLs to the search engine.
Is IndexNow compatible with sitemaps and robots.txt files?
Totally, it is one more tool that does not replace the rest of the SEO machinery, and each one has its function.
How many URLs can I submit using IndexNow?
In principle there is a theoretical limit of 10,000 URLs per day, but it depends on each search engine to allow more or less than this amount.
Can I submit old or already indexed URLs or is it only for new publications?
You can submit any URL, but the use of IndexNow is intended for:
Indexing new URLs.
Review the indexing of already indexed URLs that have been modified.
Under these criteria, yes, you can submit any old URL, even all the ones you have, but it is not advisable to saturate the API key engine that is assigned to you for each domain.
If you submit an old URL that is already indexed through IndexNow, the search engine will analyze the content of the URL and revise its index to incorporate the content that has changed.
Is it good for SEO to use IndexNow?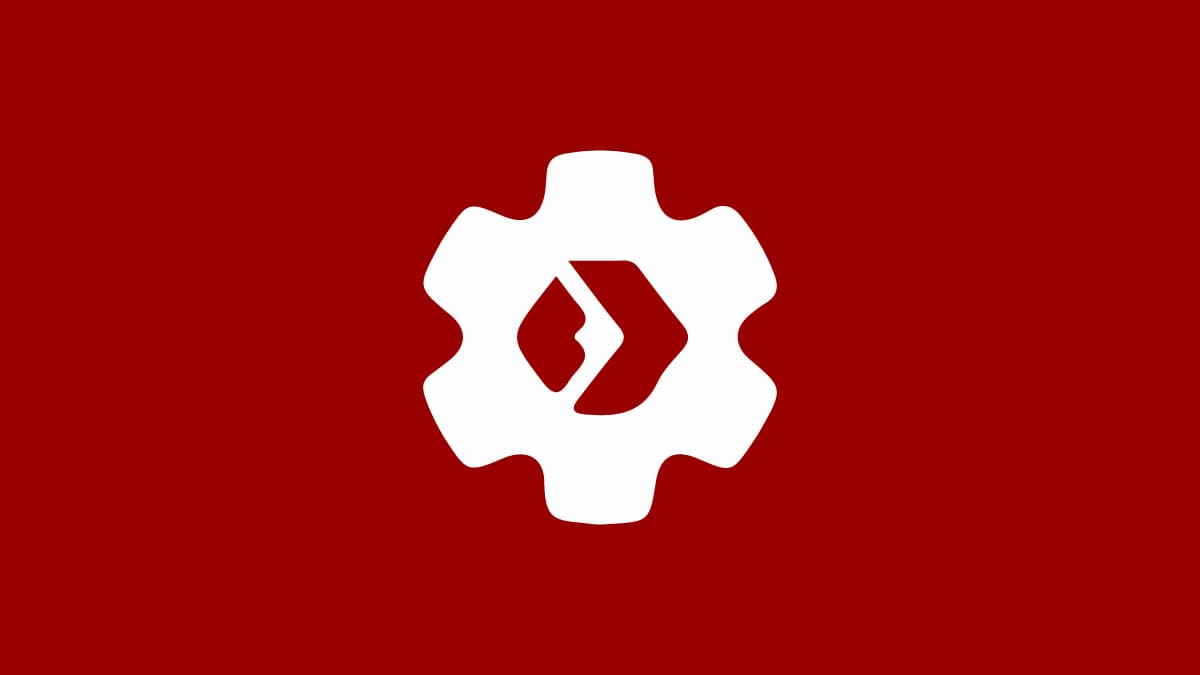 What is clear is that it is not a bad thing to use IndexNow for SEO, as it allows you to have your content updated in the indexes of the compatible search engines.
In fact, in many occasions, it is essential to have fully updated indexes, especially with URLs whose content changes often and sometimes search engines are slow to reflect these changes, something that has happened to all of us at some time, and is sometimes even compromised, such as price changes in an online store, when the search engine shows a price and in reality is already another.
Also, for sites that generate a lot of updated content, it is vital to have their content indexed as soon as possible, as there may be the paradox that when the search engines index their content it will no longer have any current value.
However, it is not a tool that you should use in a crazy way, to send several changes on the same day, something that would not make sense and would also saturate the protocol with unnecessary submissions.
Which search engines support IndexNow?
Being a Bing development, logically Microsoft's search engine is fully compatible with IndexNow, and so far, the Russian search engine Yandex is also compatible.
What about IndexNow and Google?
At the moment Google is not compatible with IndexNow and, although company engineers have said that they have no problem in adopting technologies created by other search engines, they have not yet considered it, as they consider that the site's maps are more than enough.
Is it worth using IndexNow if Google is the main search engine in my country?
On the other hand, what does IndexNow bring me if my target audience mostly uses Google?
Although this statement is true, maybe you also have a target audience in other countries where Bing, Yandex and other search engines have enough usage share to make it worthwhile for you to have a presence, don't you think?
Here is a summary of Bing's usage share in some areas, just check to see if you want to rank in those countries…
USA – 33%
United Kingdom – 26%.
France – 19%
Norway – 17%
Latin America – 5%…
Which companies are already using IndexNow?
More and more companies are taking advantage of IndexNow's potential, some of the most relevant being …
Microsoft
eBay
GitHub
CloudFlare
How to use IndexNow with WordPress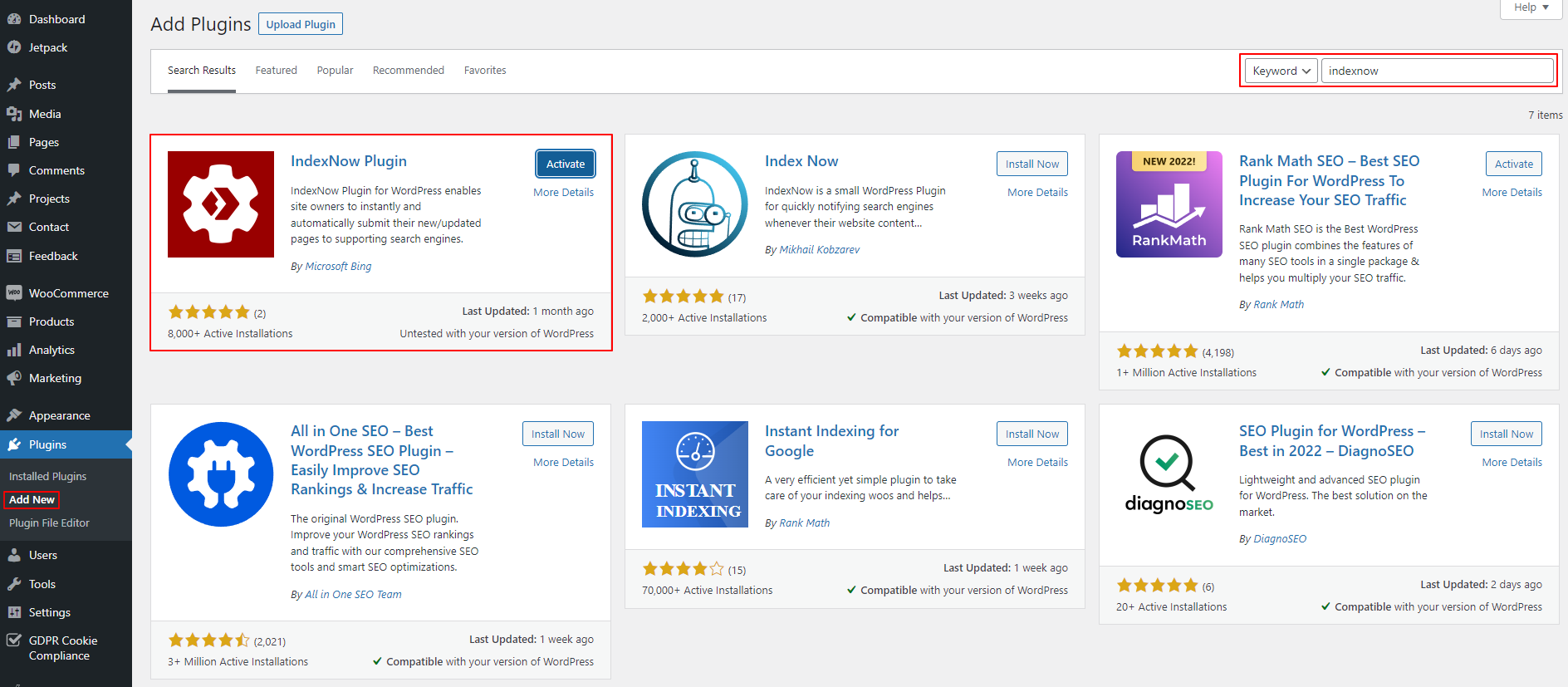 If you want to start taking advantage of IndexNow's capabilities with WordPress the best way to do it is using plugins that allow automatic and manual submission of URLs via the IndexNow protocol to search engines that support it.
The good news is that almost all of the best SEO plugins have built-in IndexNow integration.
But let's see what we have and how to take advantage of IndexNow in WordPress.
IndexNow Plugin
You don't really need to wait for your SEO plugin to incorporate IndexNow.
If you do not want to depend on your SEO plugin, or you use one that is not yet compatible with IndexNow, there are specific plugins to take advantage of IndexNow opportunities in WordPress, and the most recommended is IndexNow Plugin, created by the same developers of the Bing Webmaster tool.
Its operation is very simple, you just have to install it, activate it, go to its configuration page, in "Settings → IndexNow", and click on the only button you will find.
Clicking this button automatically generates a unique API key for your website, which is essential to use IndexNow, and you can access its configuration page.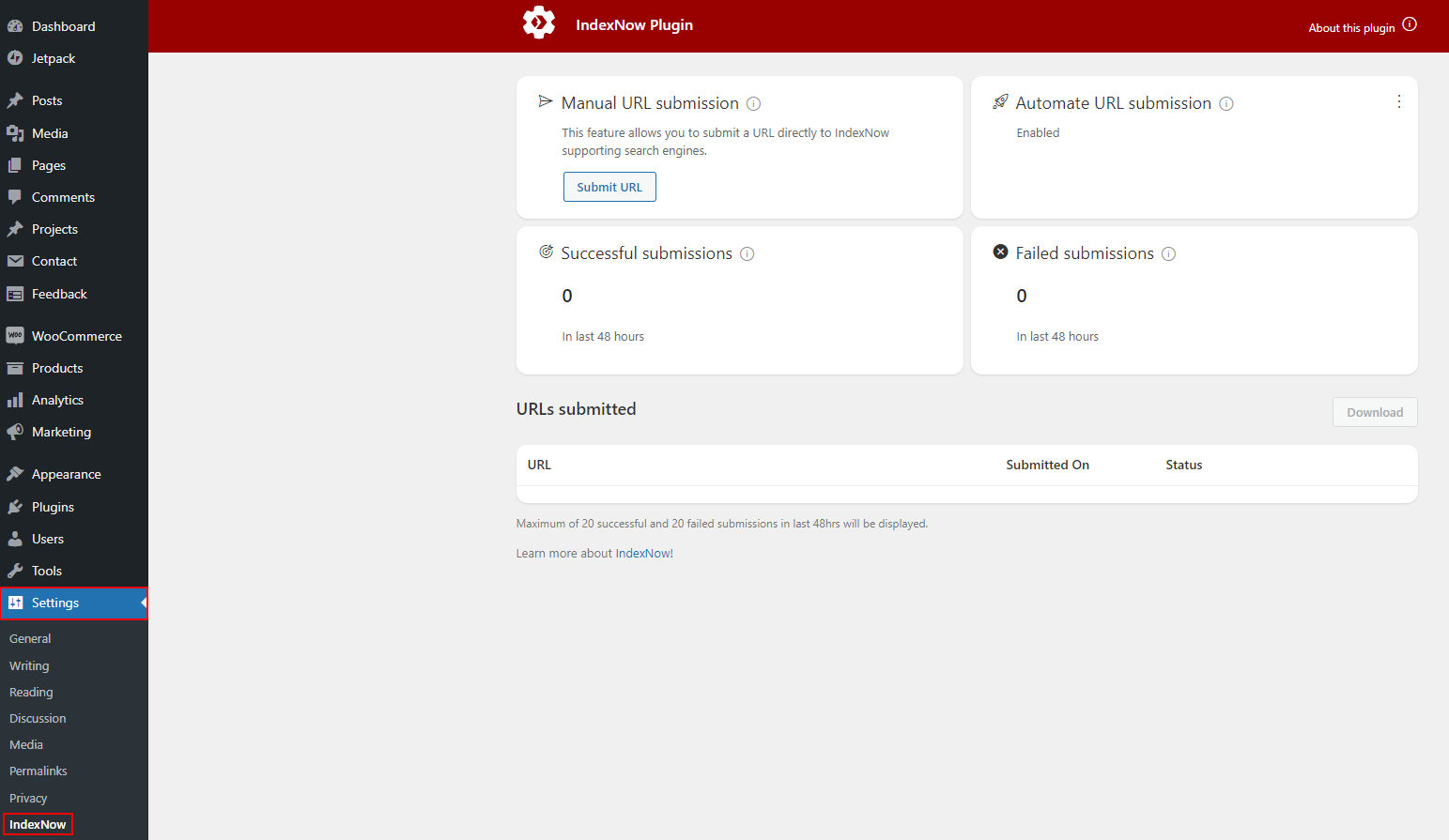 Actually, you don't have to configure anything special, because by default you will see that the automatic URL submission is active, and you will have a list of successful and unsuccessful submissions, as well as a list of the last 20 submissions, which you can also download.
You can, however, use the manual URL submission tool to send modified old content that would not be included in the automatic submission generated for new publications.
IndexNow with All in One SEO
Although the All in One SEO plugin has recently incorporated IndexNow compatibility, unfortunately, it is a premium feature, which does not work with the free version, this plugin becomes worse with time not gonna lie.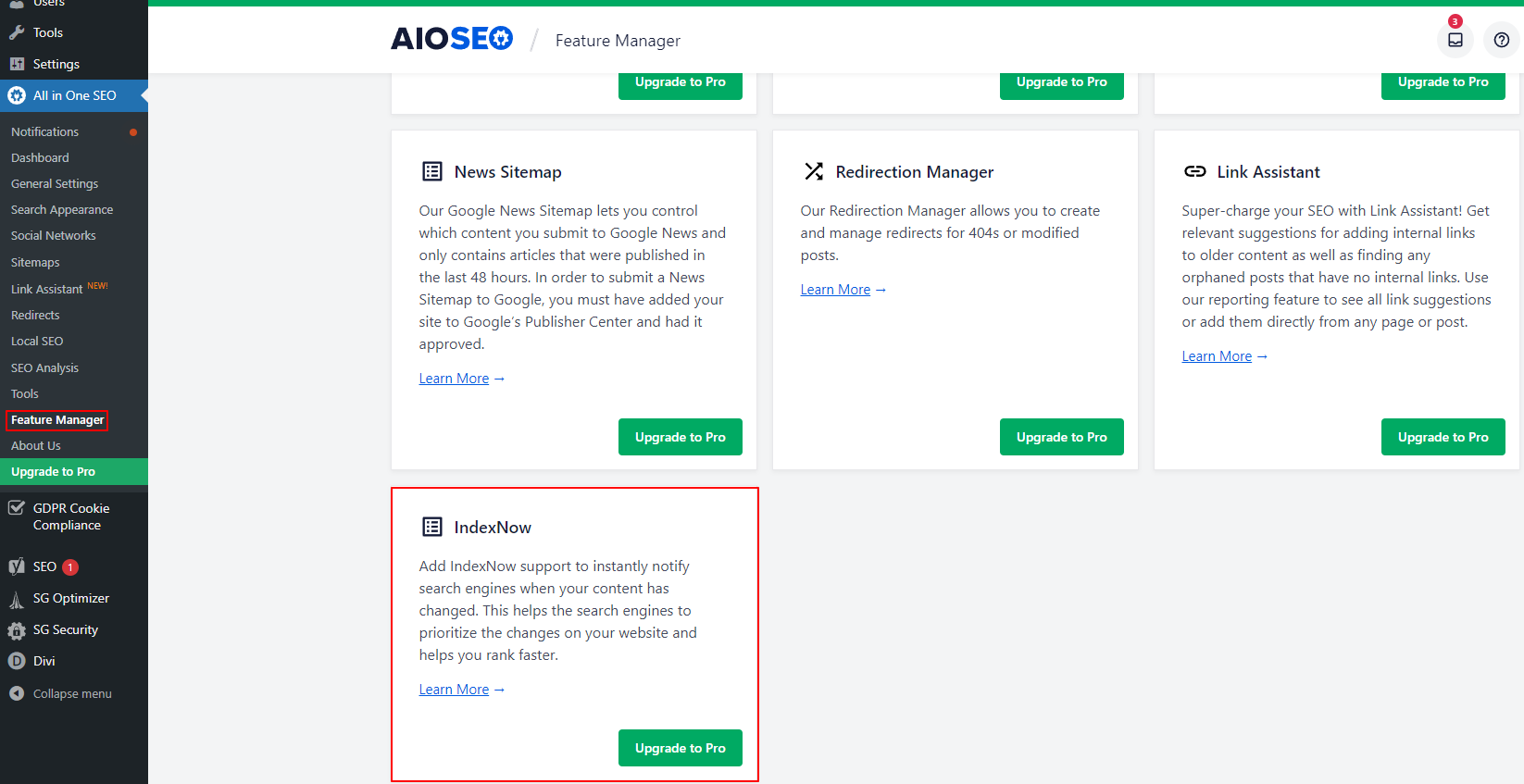 It's a shame what they have done with this plugin since their last acquisition, charging for functionalities that were previously free.
IndexNow with Rank Math
Rank Math was the last to sign up for IndexNow but it has done well. To activate it just go to the Rank Math desktop and activate the new IndexNow module.
Then go to the module settings, either from the same settings button next to its activation switch or from the new submenu.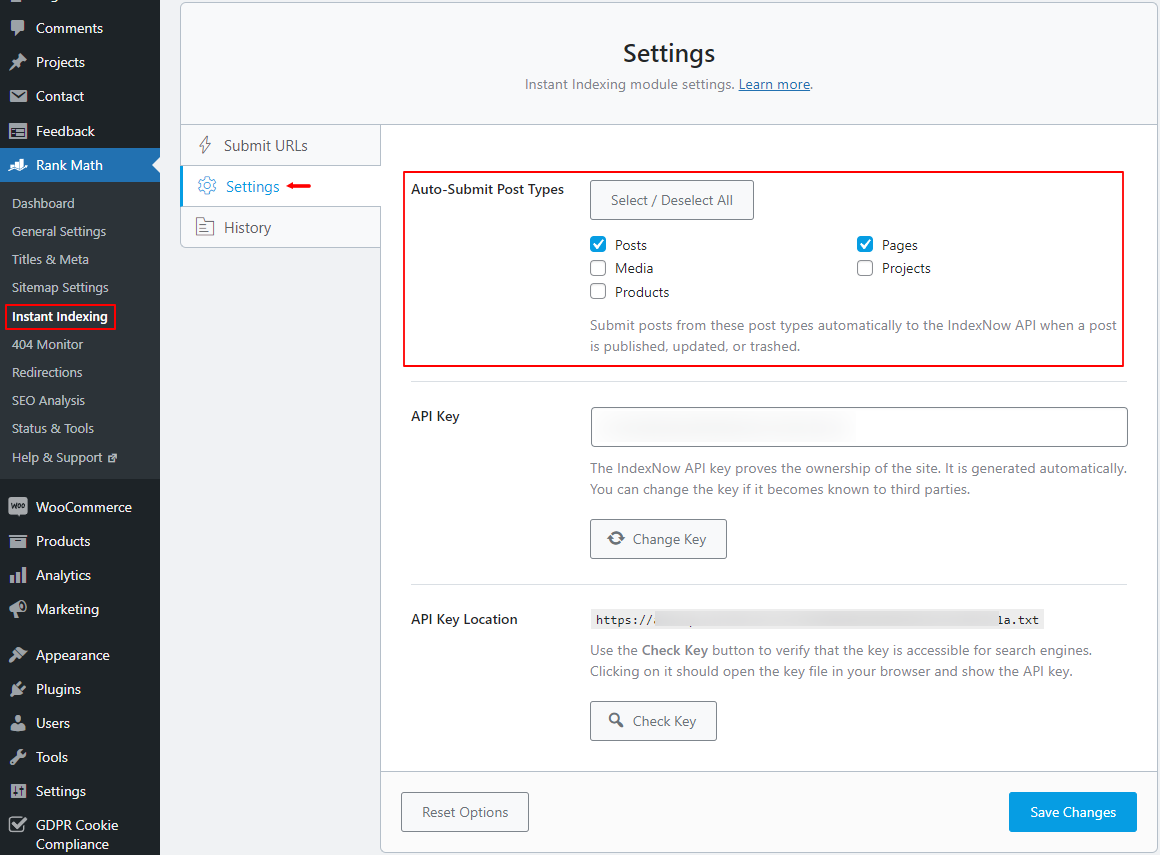 On this page, you can decide what types of content to automatically submit via IndexNow and change the API key if you wish, although the plugin generates an IndexNow API key automatically as soon as you activate the module.
In addition, on another tab, you have a tool for manual URL submission, so it offers everything you need to take advantage of the IndexNow protocol.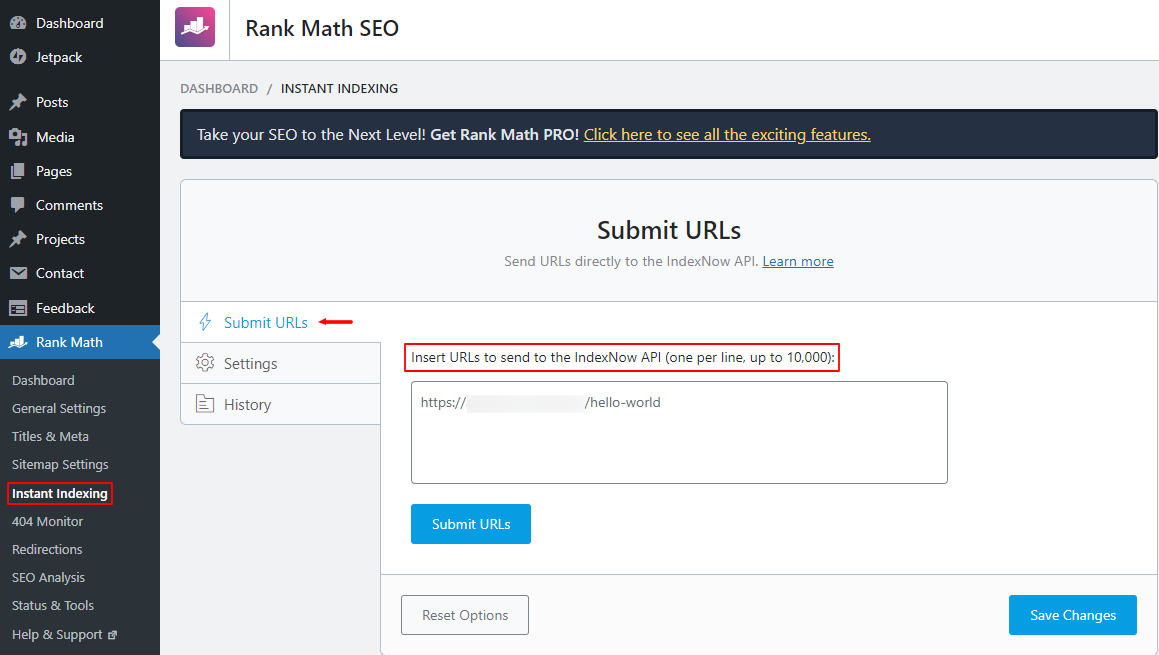 A good example of good usage of this protocol for WordPress.
What about IndexNow with Yoast?
It seems that Yoast has not yet incorporated integration with IndexNow and, for now. The words of its founder were "for the simple reason that we don't see the value yet".
Although later in the thread he acknowledges that it can be of great value for large sites, he relies on Google's statement that, for the moment, sitemaps are enough.
Personally, I think this is a mistake because the incorporation of IndexNow does not detract anything from an SEO plugin, on the contrary, it adds opportunities for its users, who do not have to limit themselves to indexing only in Google, especially if we are talking about an SEO plugin with worldwide deployment.
I honestly do not understand Joost's position in this regard, it seems to me that they are losing an opportunity compared to their competitors, who are offering it.