From version 15.1 of the Yoast SEO plugin you can connect your WordPress with your SEMrush account and add related keywords, a powerful SEO analysis tool.
The process to use this new and powerful tool is simple, let's do it…
The first thing you have to do is go to the new settings page of Yoast -> General -> Integrations, and check if you have SEMrush integration active.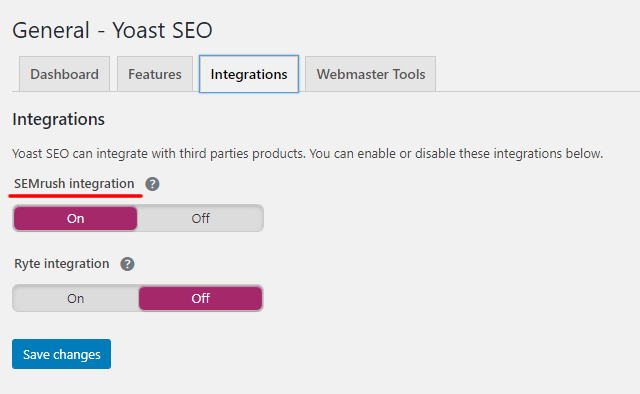 Where to find it in the editor and how to use it
Once you check that the integration is active, already in the entry and page editor, under the box where you enter the target key phrase you will find a new button for "Get related key phrases".
If this is the first time you use this tool when you press the button you will be redirected to the SEMrush connection page. Where you must connect to your SEMrush account or register a free or paid account.
After that you will have to confirm the connection.
Now you can click again on the button to get related key phrases, after which a pop-up window opens where you will see related key phrases according to the search level of the SEMrush algorithms, and which you can select by country.
With this you get very valuable information that you can use to replace your chosen key phrase with another one with more volume of searches, if you use Yoast in its free version.
Or add more related key phrases and do the corresponding SEO analysis if you use the premium version of Yoast.
In addition, you can analyze the key phrases by accessing your SEMrush account from a link at the bottom of this pop-up window, where you will already have all the SEO information from the SEMrush panel, another world.
Unlike the previous integration with Ryte, this one I find it useful, whether you use Yoast SEO for free or premium, because you have in the editor a keyword search engine for your content and its impact on searches.
Read this post in Spanish: Cómo buscar frases clave con Yoast SEO y SEMrush