The symbols of washing, drying or care instructions is something that a lot of customers will look for when buying a textile product in a store, also if it is an online store, so why not display it in your WooCommerce online store?
Can washing and drying instructions be added to products in WooCommerce?
Yes! Yes! Yes! Yes! Yes!
Have I ever said that if you can think of a feature that WordPress or WooCommerce should have, someone else will have had that need before, and someone else will have created a plugin to provide it?
Well this is another case where WordPress plugins come to the rescue, in this case for the textile seller who has a store created with WooCommerce.
Specifically I refer to Wash Care Symbols for WooCommerce, a free plugin and very easy to use that every online clothing and accessories store will want to have installed and active.
How to add washing, drying and care symbols to WooCommerce products.
Once the plugin is installed and activated, you only have to edit the products and you will find a new section in the product data, called Wash / Care.
You will find a box of attributes in which to choose the instructions for…
Washing
Drying
Ironing
Dry cleaning
Bleaching
Simply click on each box next to each type of care and a drop-down is displayed with all the options available for each type of care and the developer will expand them in future versions, when he receives some feedback from users of the plugin.
How and where do I see the care symbols for washing, drying, etc.?
Once you add washing and other care instructions, save the changes to the product and in the additional information product tab you will see the list of selected instructions.
In addition, hovering over each symbol displays a pop-up information describing the symbol/type of care needed – perfect!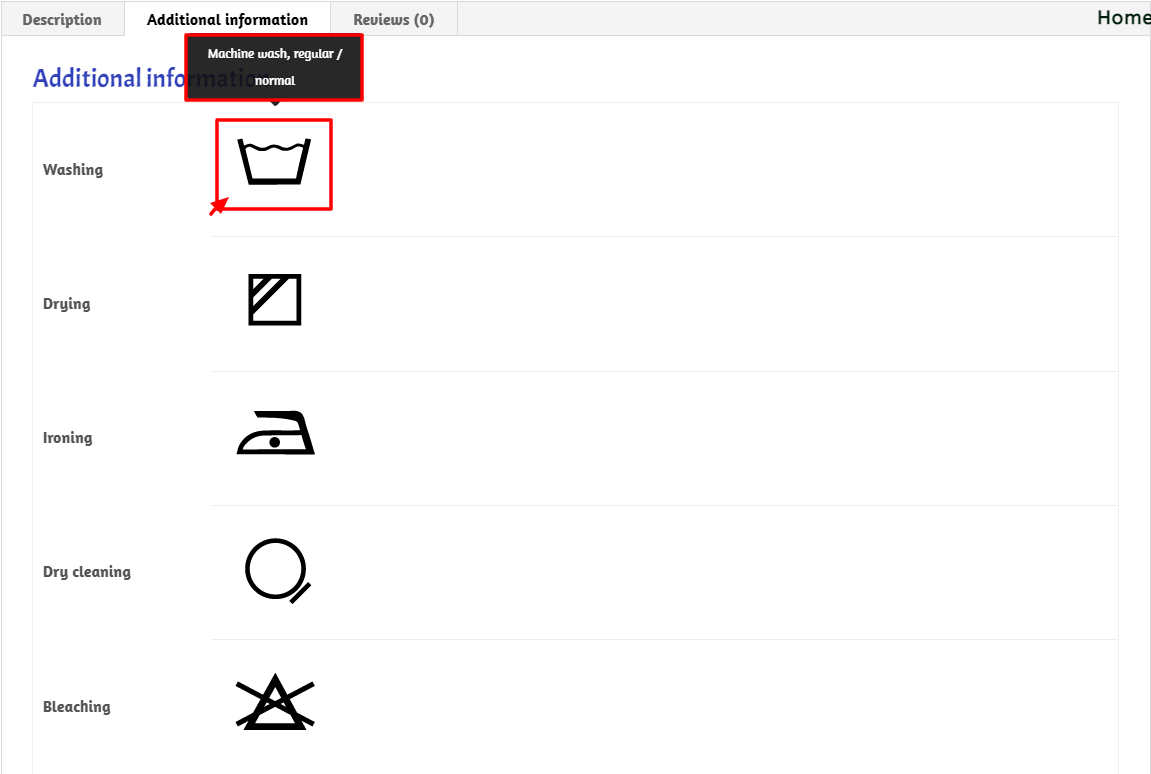 It just works, and offers a functionality that every online textile store should have.